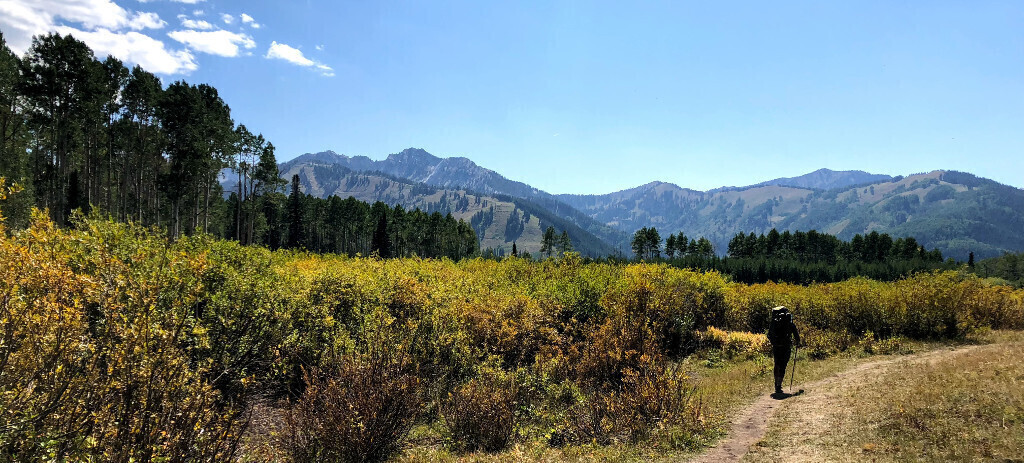 Update 2022 Links checked and updated, some weights updated based on newer models of the stuff listed. Also, I don't use the alcohol stove much anymore, it's just too fussy for me. Instead, I use a simple compact gas stove.
I went on a nice quick overnight backpacking trip with a friend last night. Unpacking my stuff just now, I realized that I had never shared my ultralight backpacking gear list. You may find it useful if you like backpacking but don't like carrying heavy gear you don't need weighing you down. Here's a picture showing everything, minus the food I already ate (separate story).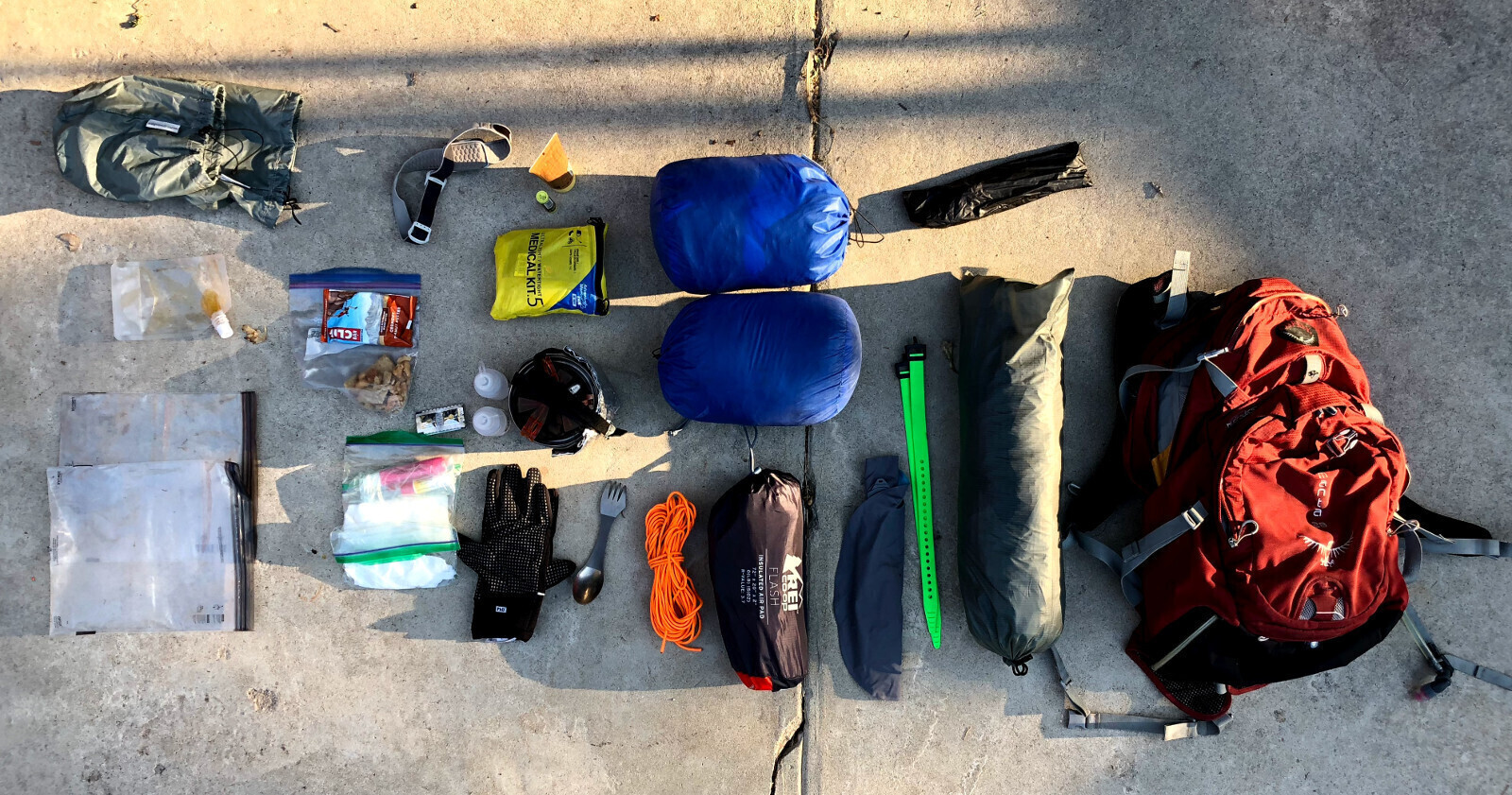 Osprey Manta 28 hydration pack. This is marketed as a day hike pack and it is, but it is just big enough to fit all my stuff for an overnight. Ideally I'd carry a pack that is one size up, a 32/35 liter, and has some more attachment options for external stuff. Weight: 43 oz
Tarptent Bowfin 1. I just got this. The setup / pitching is a bit weird, and it only has two stakes making me wonder how it'd do in high wind situations, but you can't beat the weight and it seems well designed. Weight: 36.8 oz
Two 12" Nylon Buckle Voile Straps. These are so extremely versatile for holding stuff together I can't recommend them enough. I use them for securing all kinds of stuff to my bike on bikepacking trips, to hold skis together, and in this case to strap my tent to the bottom of my pack. Total weight: 3 oz
A Sea To Summit Aeros Ultralight pillow. It's a pillow! It's ultralight! Weight: 2.1 oz
REI Flash Insulated Air Sleeping Pad. A relatively new purchase I am happy with, after so-so experiences with the Therm-A-Rest ultralight pads, which were not strong enough and punctured on me more than once. This is not quite as light but proves a good trade-off. Weight: 15 oz Update 2022: they don't carry this model any longer, they have this one that is 1lb 5oz, too heavy if you ask me.
AntiGravityGear Sil-Nylon Stuff Bags. I carry four: a 6"x11" one for my clothes, another 6x11 one for my sleeping bag, and two 5"x8" ones for food and small things. Weight: 2.2 oz total
Western Mountaineering HighLite sleeping bag. This is an absolutely fantastic sleeping bag for any night above 35 degrees. Weight: 16 oz
A length of synthetic rope to hoist my food up into a tree at night to keep it out of reach of badgers, bears and everything in between. This is too long and too heavy and needs optimization. Weight: 5.5 oz
Two 2 oz squirt bottles, for alcohol. 1 oz of denatured alcohol is about enough to boil 16 oz of water at the altitudes I mostly camp at (8000-10000 ft). So each squirt bottle is enough for 1 day (dinner and coffee / breakfast). Because my buddy wasn't carrying a stove, I brought extra alcohol to boil water for him as well. I just got these so I wouldn't need to bring my 4 oz bottle, but I don't think I will use them again for this purpose. It's more of a drop dispenser than a squirt that they deliver. Weight: 0.5 oz
Adventure Medical Kit 5. Medical emergency necessities. Weight: 3.6 oz
Petzl Tikka XP headlamp (link is a newer model). I bought this years ago and haven't given it a single thought since. It does what it needs to do for me, which is light my path in the dark. Weight: 3 oz
Food. I brought:

Backpacker's Pantry Huevos Rancheros - never again, disgusting. Perhaps if you cook it up in a skillet after rehydration it would be okay, but who brings a skillet backpacking? 3.5 oz.
AlpineAire Foods Cheese Enchilada Ranchero - okay. I just wish they had 1.5 serving packages. 1 serving is not really 1 serving and 2 servings is too much food. 6.2 oz.
2 Crunchy Peanut Butter Clif Bars. I like Clif Bars and the various peanut butter ones are my favorites. 2.4 oz each.
4 String Cheese Sticks. Convenient way to have access to something that resembles cheese on the trail. 1 oz each.
A dozen or so Triscuit crackers, to have with said string cheese sticks, 1 oz.
A handful of cashew nuts,around 2 oz.
0.5 oz of ground coffee
Small bladder with 4 oz of rye whisky, 3 oz
Total weight food: 25 oz

Water, 2.5 liters. And a couple of purifying tablets, just in case. Weight: 70 oz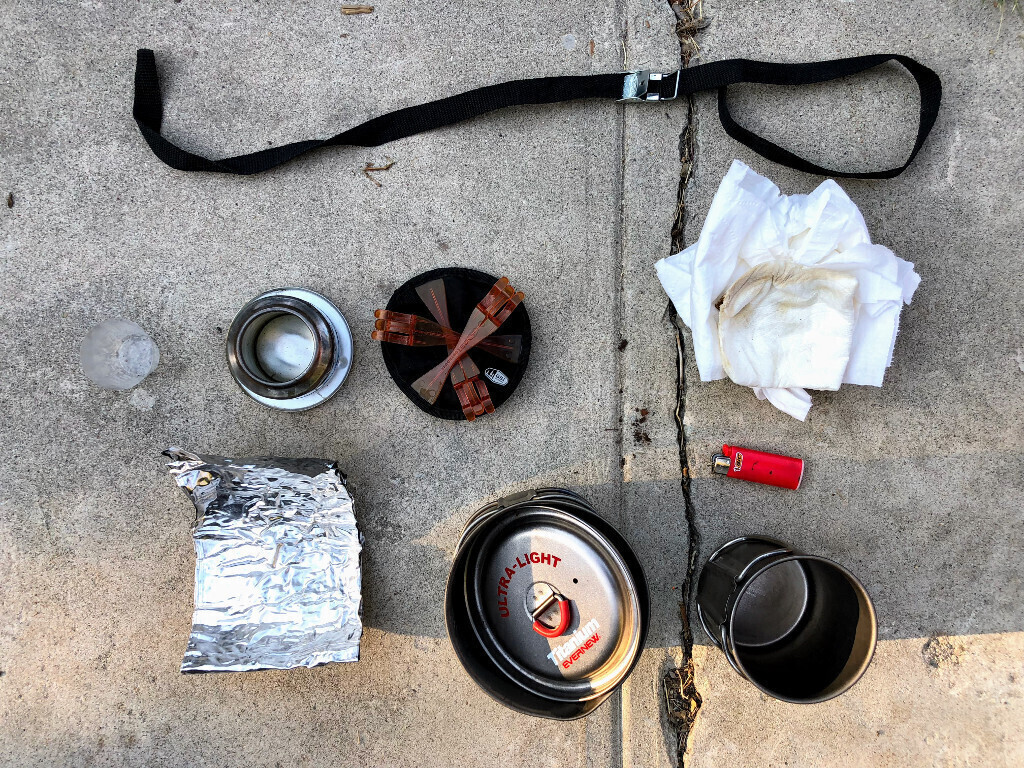 Cooking gear:

Ti Mug Pot 900, the smaller 500 would really do, but this is what they had when I needed it. Also, all the other cooking gear except for the coffee filter fits neatly into this one. 3.5 oz.
GSI Outdoors Ultralight Java Drip Coffee Maker, to prepare coffee. 0.4 oz.
Alcohol stove, 4 inch wind screen and primer pan, 5.3 oz
Alcohol, 4 oz.
Small Bic lighter, 0.4 oz
Titanium mug, like this one but I am not sure if this is the exact one I have. 2.8 oz
Strap to keep it all together, 1.5 oz?. Total weight cooking gear: 17.9 oz

Light My Fire spork, to eat with. Weight: 0.3 oz
Personal care:

Travel toothbrush and toothpaste, 1.5 oz
~15 sheets of toilet paper, 0.5 oz
Sun Bum sunscreen and lip balm. I love Sun Bum sun screen. It smells nice, moisturizes well and gets absorbed quickly. I need to find a way to not have to take the entire bottle however, 4 oz
Total personal care: 6 oz

Clothing (except for what I wear. I don't bring a change of clothing for an overnight trip.):

Mountain Hardwear hooded jacket. Not sure if I have this exact same one, I bought mine years ago. This ultralight yet comfortable and warm jacket is one of my all time favorite outdoor purchases ever. 7.8 oz.
Icebreaker 150 leggings, to keep my legs warm when it gets cold at night. 7.8oz
Total Clothing: 15.6 oz

Leatherman Squirt PS4 multi-tool, has a small knife and pliers. Weight: 2 oz
Cash, driver's license, credit card. Weight: 3 oz
Phone. Indispensable for maps / GPS and camera. Weight : 6.1 oz
I think that's it. Well, I was carrying my car key as well. Technically I could leave it behind, hide it somewhere, but that is not worth the risk / hassle.
The grand total is about 17 pounds, including water and the backpack. Base Pack Weight (without food, water and stuff carried in pocket: 11 lbs.
The low hanging fruit for further weight reduction is the backpack itself. You can get cool ultralight ones like this 40 l / 30 oz Hyperlite 2400.