Happy new year! On New Year's Eve, the Dutch traditionally have oliebollen, 'oil balls'. They taste much better than their name would imply. Compare them to donuts with raisins and apple in them. The Ducth typically get them by the dozen at mobile, seasonal outlets like the one pictured below, at bakeries, or even at the grocery store. However, nothing beats making them at home.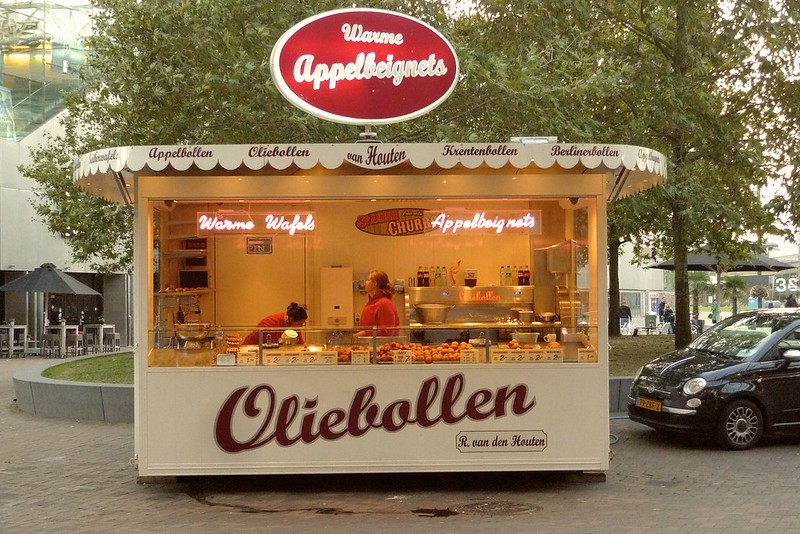 An olienbollenkraam. Source: Flickr / Franklin Heijnen / CC
Americans generally like deep fried things (cookies, candy bars, sausages) so I figured these would go down well at the small backyard new year's celebration we had planned. It had been a little while since I had made them, so I asked my brother for advice and watched some YouTube movies to remind myself. Find my recipe below.
Selected quotes from today: "The best balls I ever tasted", "The Dutch did it again", "You should start a food truck".
500g bread flour
500ml whole milk
1 egg
50g yeast (or 17g dried, about 2 1/2 packets)
50g unsalted butter
10g salt
1 Granny Smith apple
1 tsp lemon juice
350g raisins
50g candied ginger, cut in 1/4 inch cubes, optional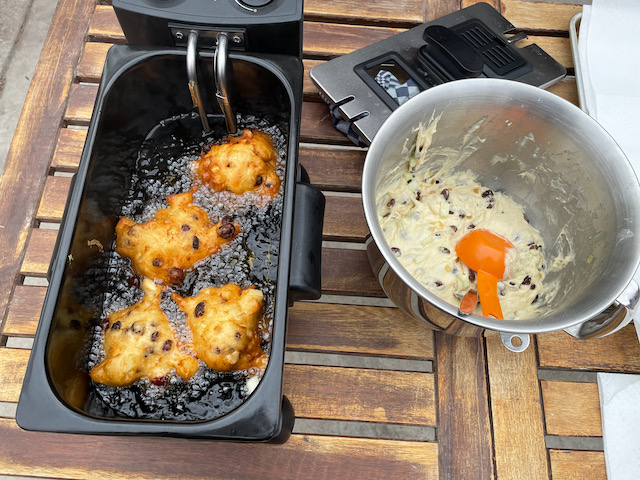 Oliebollen in the fryer. These don't look particularly pretty, I was still getting the hang of it!
First, prepare the fruit filling:
Soak the raisins in lukewarm water for 10 minutes, then drain. Set aside.
Peel and core the apple, cut into 1/3 inch cubes, and sprinkle with the lemon juice. Set aside.
If using, cut the candied ginger into 1/4 inch cubes. Set aside.
Next, prepare the dough. Start this about 1h before you are ready to start frying.
If using fresh yeast, dissolve in a small amount of the milk.
Add flour, milk, yeast and egg in a large bowl.
Mix using dough hooks for 5 minutes until you have a smooth batter.
Melt the butter, making sure it's just melted and not too hot.
Add the salt and the melted butter to the dough and mix for another 5 minutes.
Add the fruit and ginger and spoon it in until evenly distributed.
Cover bowl with a damp cloth and proof at 35 degrees C / 95 degrees F for 45 minutes.
Finally fry em.
Using fresh peanut or canola oil, heat your frying pan to 190 degrees C / 375 degrees F. Do not use a basket.
Using two spoons or an ice cream scoop, scoop about 70g worth of batter at a time and gracefully lower into the oil. Give the oliebollen plenty of room. In a 1 gal deep fryer, I make 4 or 5 at a time.
Fry the oliebollen for 6 minutes, turning them from time to time.
Remove from the fryer and place on paper towels.
Let the oliebollen cool almost completely before dusting generously with powdered sugar and serving.
Oliebollen will keep at room temp for a couple days, just pop in a warm oven for a few minutes to reheat. You can also freeze them.